By Elizabeth DeAguirre DDS
June 02, 2022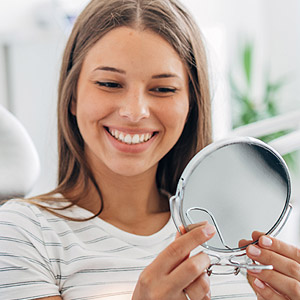 How long does it take to get a dental implant? That depends….
Really, it does! There are a number of factors that determine whether you can get a new implant tooth "in one day" or whether you'll need to wait several weeks or months after implant surgery. By far, the top factor will be the health of your implant's supporting bone.
The bone plays an essential role in both the durability and appearance of an implant. Bone cells begin to accumulate on the titanium metal post after its installment to form a solid hold that could last for decades. Positioning the implant just right within the bone also ensures the resulting tooth looks natural and attractive.
If the bone is healthy, you might qualify for the "tooth in one day" procedure in which the dentist places (or loads) a life-like crown onto the implant at the same time that they install the implant. Because the bone and implant still need to fully integrate, this is a temporary crown designed to apply less force while biting. After a few weeks, the dentist will then install the full-sized permanent crown.
Not everyone, though, has enough healthy bone to support the tooth-in-one-day procedure, or even to install an implant in the first place. A patient must have enough bone present to both support the implant and to ensure proper placement. Bone loss, a common malady for people who've lost teeth, could derail the implant process.
It's often possible, however, to reverse this situation. By grafting bone-like material into the site, a person may be able to eventually regain some of the bone they've lost, enough to support an implant. Even so, this adds time to the beginning of the process and the patient may still need to undergo full bone-implant integration before receiving any type of crown.
As you can see, how long the implant process takes can depend a great deal on the condition of the bone your dentist has to work. But regardless of the duration, the end result will be an attractive and durable implant tooth.
If you would like more information on dental implants, please contact us or schedule an appointment for a consultation. You can also learn more about this topic by reading the Dear Doctor magazine article "Implant Timelines for Replacing Missing Teeth."
This website includes materials that are protected by copyright, or other proprietary rights. Transmission or reproduction of protected items beyond that allowed by fair use, as defined in the copyright laws, requires the written permission of the copyright owners.